In practice, we often find ourselves in a situation where we should send a document/letter by registered mail. Registered mail allows us to confirm when it was sent, and even check if and when it was received. This is important as evidence that the recipient received the document (e.g., in correspondence with an employer), and often the law requires us to send a given document by a certain deadline – confirmation from the post office guarantees that the authority cannot claim that we didn't send the document on time, even if they receive the letter later.
Firstly, on the envelope, in the top left corner, we should provide the sender's details (ours), and in the bottom right corner, the recipient's details. Then, we need to fill out the dispatch note for the letter: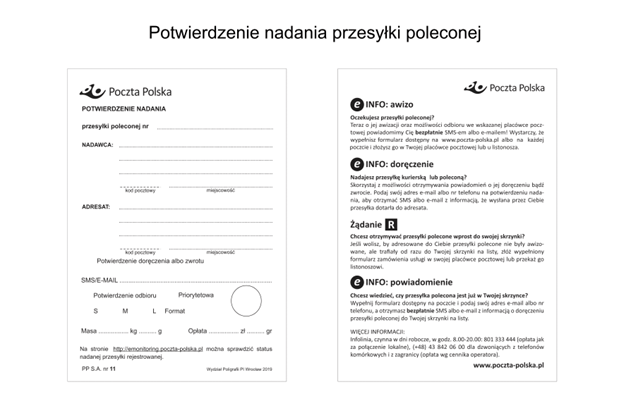 The image above depicts both sides of the form. The form can be found online (for example, on the post office's website – https://www.poczta-polska.pl/hermes/uploads/2013/10/wz%C3%B3r-11_2.pdf) or printed forms are available at every post office branch (so there's no need to print anything in advance).
We fill out the form with:
in the 'sender' field – our details;
in the 'recipient' field – the details of the entity we are sending the letter to.
With the filled-out envelope and form, we need to approach the counter at the post office. We hand over the letter and form, pay for the letter (as of now, the cost of registered mail up to 500g is 6.50 PLN). The postal worker gives us back the form with a post office stamp and a sticker with the registered mail number. It's essential to keep this form – it is proof that we sent the letter on that day (it has a postal stamp with the date). The registered mail (shipment) number on the sticker also allows us to track the status of the letter (whether and when it reached the recipient). You can do this by entering the number on the post office's website or using their tracking services. This provides peace of mind, ensuring you're always informed about the status of your shipment and can verify its delivery if necessary. Always make sure to retain any proof of postage, especially when the contents of the shipment are crucial or legally significant.